People come to Jackson Hole for skiing, but did you know that there's more to this place than just powder? There's a vibrant camping and RV scene too.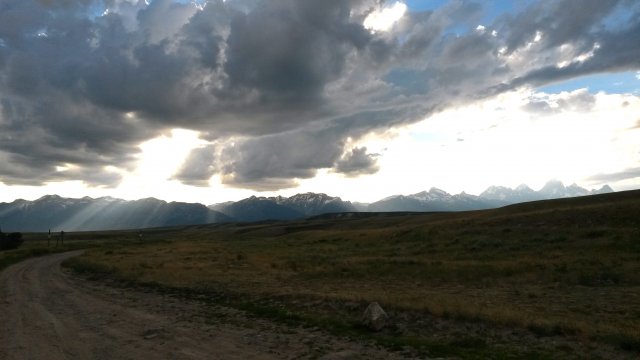 The Jackson Hole Campgrounds
There are a few types of campgrounds at Jackson Hole, some of which may be more to your liking than others. Expect to pay between $99 and $125 per day, with your choice of a premium "pull through site". Some sites will have utility hookups, some won't. It all depends on what you're willing to pay for.
The larger campsites will accommodate large RVs, but if you're tent camping, then you probably only need a small space.
The

tent camping area

offers old growth shade trees, green lawns, and campfire rings so you can relive your childhood. There are also amenities like baths and showers, a laundry facility, and a campground store, though the store might not always be stocked with everything you need, so plan on making a trip into Wilson or Jackson if you need serious supplies.
During busy times of the year, it can get quite cramped, so if you want to really enjoy the space, come during the week or at the beginning or end of the season when the crowd dies down.
While there are $50 options, these are strictly for the tent-only camping, there are cancellation fees you need to ask about just in case you can't make it for some reason, and it's best to make reservations at least two weeks in advance.
A reservation fee is also due and is based on the number of days you'll be staying. The entry/exit for some of the campgrounds can be narrow for some vehicles so be mindful of that. On the plus side, it's 15 minutes from the Tetons and 10 minutes from Jackson, so if you want to go hiking, you won't have to drive very far.
Some of the more notable parks include the Targhee National Forest, the Gros Centre Wilderness Area, Yellowstone, and the Grand Teton National Park. Within some of these parks are individual campgrounds, so make sure you

check them all out

.
And, if you want to avoid a lot of traffic and crowds, come during the winter. Yes, they have winter camping. When the snow flies, most people stay in an RV for obvious safety reasons. And, compared to the usual RV fees, winter camping is deeply discounted to $59 per night.
If you get too cold, you can always check out one of these

Jackson Hole hotels

- they're warm, reasonably priced, and near Jackson and the Tetons.
The RV sites can be hit or miss, depending on where you stay. Some people complain about the pricing. It's true - it can get really expensive to camp here. And, don't come expecting luxury campsites. This is the wilderness after all.
They do have Internet access but it's spotty, so it may not be worth paying extra for. Again, if you're coming to "rough it," expect to rough it.
Finally, this is a time and place to relax. So many people don't enjoy themselves because they're still in "busy mode." If the grounds are cramped, you sort of have to roll with the punches, expect longer than normal waits to get in and out of the park, and be accepting of the minimalism.
It's not for everyone, but it is for diehard camping enthusiasts.
*Janice Desir works as a travel consultant. She loves sharing her insights on the web. Her articles can be found on many vacation and travel blog sites.